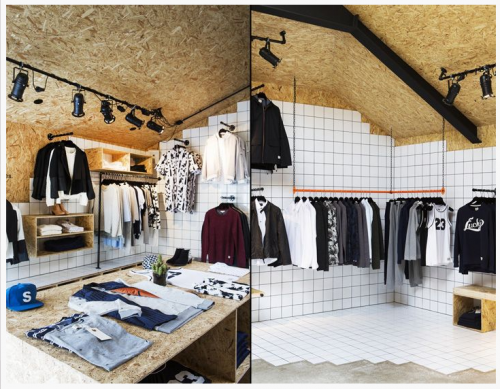 Stores, brands and retailers are always on the lookout for creative ways to attract and engage customers. It's no secret that the look and feel of a store influences the perception customers have of a retail space. What are the design trends for 2014, what 'sort of feel' are the customers looking for?
The retail trend for 2014 is a combination of old and new with digital signage associated with recycled and vintage fixtures. Retail design is going for raw materials, natural and industrial look. The trends are back to basics, with a move towards Eco-friendly and natural materials being used for store fixtures.
The vintage look evokes nostalgic feelings; there are often warm memories of unforgettable past moments. The vintage look follows the eco spirit with the uses of recycled materials. The store becomes a nostalgic place where we celebrate the past, antique furniture and iconic historic items such as an old bicycles or dial up phones.
The industrial look evokes feelings of ingenuity and comfort. The industrial look is also Eco-friendly as it uses salvaged, recycled industrial materials and re-purposes them. Think of old warehouses, factories and laboratories, exposed pipes, high ceilings with exposed beams, exposed brick walls, concrete or wood floorboard and accessories such as wheels, wires, pendant lights... This trend is urban & gritty; it has a youthful feel to it with attention given to lighting, monochrome colours, linear structures and urban backdrops.