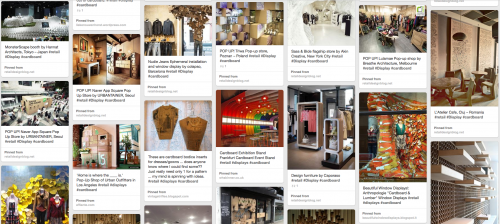 Cardboard ticks all the boxes of a trendy and cost effective display. Cardboard is eco friendly, recyclable, low cost and gives a raw, unfinished look to your store.
At the Euroshop 2014, the visual merchandising trend that stood out was the raw and industrial look, which appeals to an increasingly environmentally conscious consumer. Cardboard fits perfectly within this year's store design trends.
Read 2014 Visual Merchandising Trends /blog/euroshop-2014-visual-merchandising-trends
Read 2014 trends: THE RAW & INDUSTRIAL LOOK /blog/2014-visual-merchandising-trends-raw-and-industrial-look
Cardboard displays are one of the most cost effective in-store advertising mediums. Cardboard can be designed as point of sale displays, counter displays, dump bins and even furniture. The benefits of cardboard displays allow them to be custom designed in any shape or size, branded, as well as strengthened to suit their required longevity. Further benefit of cardboard displays is the shipping price. Cardboard can be folded into a flat pack considerably reducing the freight cost.
It's important to note that while regular, unwaxed, cardboard — made of two layers of cardboard with a crimped layer in between also called corrugated board, can be recycled, the waxed corrugated fibreboard variety cannot.
When we talk about cardboard, we think cheap, tacky, temporary and fragile but now, they are making incredible things with cardboard. Some displays can hold up to more than 200kgs.
SI Retail is looking at sourcing cardboard displays from its factory in China and maybe adding them to their range. If you are looking for something specific or if you are simply interested in cardboard displays give us a call on 1800 211 122 or email us at info@siretail.com. While we don't offer cardboard displays as part of our range of shopfitting products yet, we stock a range of corrugated board accessories and hooks.
See below a selection of amazing store layouts, which incorporate cardboard as an essential material for displays and fixtures.