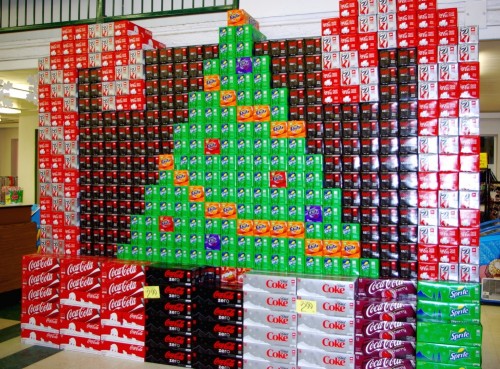 Christmas is coming!
In the lead up to the busiest period of the year, make sure you are well prepared by following these 11 handy hints and tips to boost sales during this year's festive season. While it may not be possible to implement all of the below (depending on your industry and situation), try to utilise as many as possible to cash in on extra Christmas sales.

1. Stand out!
Create a stunning Christmas themed display close to the entrance of your store and make it easily accessible. Customers will wander to an area that has a beautiful feature display dedicated to satisfying their needs. Second to your window display, the area next to the front door is the most important for impact. Place your best selling products here to give a strong first impression.
2. Make sure your window displays are neat and stylish
Don't make the classic mistake of cramming too much in to try and showcase all of your wares. Less is more. Try include an item that's eye-catching (whether it's an item you sell or a prop for display purposes) to draw passers-by into your store
3. Keep it clean
Make sure your store and your windows are always clean (this includes mirrors, shelves, counters and tables). A dirty environment will have customers leaving very quickly! Plus, with so many customers shopping, expect products to be moved, repositioned and messy. Prompt your staff to spend extra time correcting displays during this period.
4. Prioritise your products
Place standard items which customers "need" at the back of the store to ensure they walk past all of your special, new or impulse items to get there. Also try to place small impulse gifts near the register to tempt customers and obtain those extra impulse sales.
5. Go one step further!
Many retailers are offering a free gift-wrapping service to generate extra sales during the Christmas period. By making life easier for your customers during this time, they will remember your store the next time they require a quick and easy gift.
6. Bundle some gift packs
Combine several related products together to form a gift pack. A pre-packaged gift will often be chosen over a standalone product, but don't pack all of your expensive items together; everyone has a certain limit in their mind on how much they wish to spend on a gift. Create a few packs that vary in price to attract customers from all socio-economic backgrounds and appeal to every gift-giver.
7. Be creative and helpful
Prepare your sales staff with some fabulous gift ideas to help consumers who are seeking something more unique or personal for their friends/family. They may not know what they want, so think outside of the box with your product offerings to come up with some funky and creative ideas.
8. Stock up!
Ensure you have ordered enough stock in the months leading up to Christmas and that your shelves are continuously re-stocked. No one wants to sift through a small selection of leftovers.
9. Offer store Gift Cards
Many customers will take the easy route and opt to give gift cards instead of presents. Make certain you are promoting and offering your gift cards to every customer at the checkout. By doing so, you could gain the extra sale before they buy elsewhere.
10. Advertise and promote your store
You may have the best Christmas display of any retailer in your area but if no one knows about it then you are unlikely to benefit from such a wonderful display. Send emails to your database, hand out flyers in the centre or advertise on social media and radio; targeting local areas to inform customers that your store is the GO TO place for gift-giving this year! Other promotional ideas that add value to your offering include free gift wrapping or free shipping online. Offers like these will lure customers away from competitors and into your store instead.
11. Lighting, lighting, lighting!
Many shop owners dismiss the importance of lighting, however, lighting should be a high priority in every stores design to ensure products are seen and look as good as possible. LED's are perfect for this. Look for a cool white light such as our EZI-LED shelf lighting to accentuate the branding and colours of your products. Highlighting a Christmas section or display within your store is easier than ever with EZI-LED! Plus, it can be utilised all year 'round for boosting sales in multiple different categories.
 
Well there you have it. More than 10 Tips to maximise sales in the lead up to Christmas.
Do you have a fabulous Christmas display already? Show us! We would LOVE to see it!
Until then, if you have any questions or need any help, we are always more than happy to be of assistance!
Happy Selling!