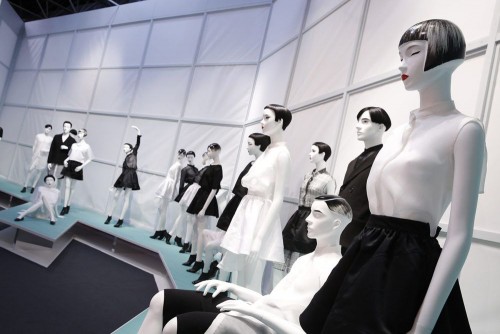 SI Retail is a provider of solutions in retail. We don't only sell shopfitting equipment and provide supply chain management services but we are here to drive innovation and success in the retail industry. In order to honour our goal, our sale team, product development manager and general manager attended Euro Shop 2014 in Dusseldorf, Germany to bring you the latest in-store and visual merchandising trends.
Euro Shop is the world's leading retail trade fair, with the biggest international presence, the most comprehensive range of products and services, the highest quality and the largest array of innovations:
- 200,000 square meters of exhibition space
- 2,000 exhibitors from 50 countries
- 100,000 trade visitors from 90 countries of all industries
This blog post is the start of a series around the 2014 trends in visual merchandising. Below are the different trends identified at the Euro Shop that we will explain in more detail, in future posts.

TRENDS IDENTIFIED:
- RETAIL SHELVING AND RACKING WITH IN-BUILT LIGHTING
SI Retail at EuroSHop: LED Shelves Light
Coles and Woolworthds have already installed this technology in their beauty department but it is still very marginal in Australia.
- RAW TIMBER INDUSTRIAL FIISHES
SI Retail at EuroSHop: The unfinished look
- Fixtures: Invisible look
SI Retail at EuroSHop: Fixtures Invisible look
The uprights are hidden or very slim
- MOVABLE FIXTURES WITH CEILING AND FLOOR TRACKING
SI Retail at EuroSHop: Movable fixtures
Photo by Dalziel and Pow
This photo is from Shasa store in Los Angeles designed by Dalziel and Pow
http://www.dalziel-pow.com/work/shasa/
- CARDBOARD DISLAYS
SI Retail at EuroSHop: Cardboard displays
Cardboard displays are versatile and Eco-friendly.
- PRINTED FABRIC AS PICTURE WALL AND SIGNAGE
SI Retail at EuroSHop: Printed fabric as signage
This is not a store but a simple window with a 3D background.
-INNOVATIVE MANNEQUINS SI RETAIL AT EUROSHOP: MANNEQUINS
Customizable mannequins with interchangeable faces as well as LED lights integrated in them are some of the trends identified.
- FLOORING
SI Retail at EuroSHop: Flooring
New flooring colours and materials
SI Retail is a provider of solutions in retail. We have the ability to custom make almost anything, so if you see something that you like and you would like a quote, give us a call on 1800 211 122.