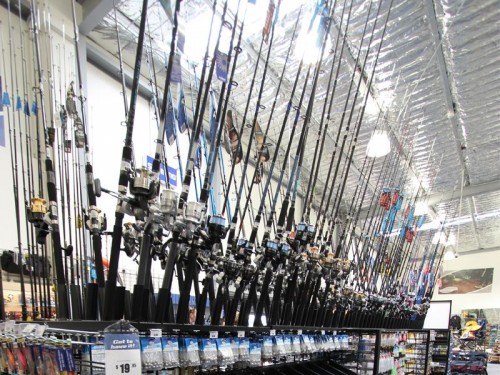 This new concept is all about the outdoors and a trusted company was needed to supply the fixtures.
Super Retail Group fitted out 13 New Fishing Camping Outdoors stores: a new brand and concept in New Zealand.
SI Retail were contracted to supply the metal fittings for these new stores. "We were chosen due to our existing relationship with Super Retail Group," explains Brendan Dales, SI Retail's National Business Manager for Strategic Accounts, "as we've worked with them on fitting out their Super Cheap Auto, BCF and Ray's Outdoors stores here in Australia. Our competitive prices out of China also made us an obvious choice."
As well as having a comprehensive range of shopfitting supplies available, SI Retail also has the capabilities to custom create fittings to suit specific requirements. Dales confirms that, "We provided all the metal work in store. Some of it was custom created for these specific stores, and some of it was from our range of standard SI Retail items."
The custom created items included:
- Wire television stands (which were innovatively built for the purposes of shelving, product promotion and digital viewing)
- Kayak stands
- Fishing rod holders
- Mannequins
- Metal gondolas
- Certain display hooks
- Competition boxes
From the standard SI Retail range came
- Data stripping
- Garment racks
- Wall strip and accessories
- Slotwall accessories
- Dump bins
- Shelving
- Ticket frames
- Catalogue stands
- Acrylic signage
- Shoe shelves
- Shopping baskets.
From the initial stages of quoting through to placing the order, the process took around eight months.
"Once the pricing was approved, samples were made and then the client and I flew to China to sign off on the samples at the factory," says Dales. "This is something that SI Retail does for all major projects, as it gives the customer a better understanding of our whole operation."
Once the items were finalised, it took only a few months before the store rollouts began. "After sign-off, a forecast was implemented to ensure that we were able to meet the opening dates and then manufacturing commenced," continues Dales. "We had to ensure that the custom fixtures and the SI standard lines were consolidated in the warehouse to ensure that all stock was being distributed at once, eliminating any potential back orders. Once the stock arrived, it was a matter of managing the forecast, warehouse and delivery dates to ensure that the goods were at the store on the required fit out date."
One of the major challenges that SI Retail needed to overcome was the inconsistencies in product quantities for each store, which changed dramatically after the first few fit outs took place. "This was a constant battle until an average order quantity was established," confirms Dales.
The results have been very positive. "All the feedback that we have received has been consistently positive," says Dales. "The stores are trading well and our ability to supply large rollouts has gained more credibility."
[gallery id=30]
Watch-SI-Direct