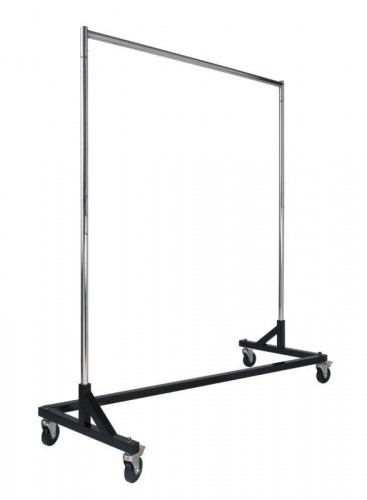 Z Heavy-duty Rack GR-Z-RACK-BK
Perfect for Department Store, sport and fashion shops or even Industrial Laundry, Dry Cleaner or Scuba Diving equipment. The Z rack is ideal for displaying heavy products such as leather jackets or long pieces of clothing like wedding dresses. Once full you can still roll the clothing rack around with ease.
[vimeo http://vimeo.com/125863230]
Description
- Single rail garment rack
- Heavy duty, industrial strength
- Chrome uprights & crossbar
- Black heavy duty 'Z' base to distribute weight evenly
Features
- Quick & Easy to assemble
- Strong & stable
- 25% thicker steel than standard racks
- Lockable, heavy-duty wheels
- Fold rack for easy storage and transportation
- Very compact when packed
Dimensions
- Tube 30mm diametres
- 1600mm L X 1800mm H X 600mm W
- Hanging space: 1400mm H
- Load capacity: 150kg
Dimensions when packed:
- 13.60kg
- 1700mm L X 220mm W X 130mm D
SI Retail has developed sign holders especially for garment racks. There are available in different sizes, landscape or portrait and they simply clip on to the rail. Check out the range here.
Purchase the Z rack today or browse through SI Retail's garment rack range.