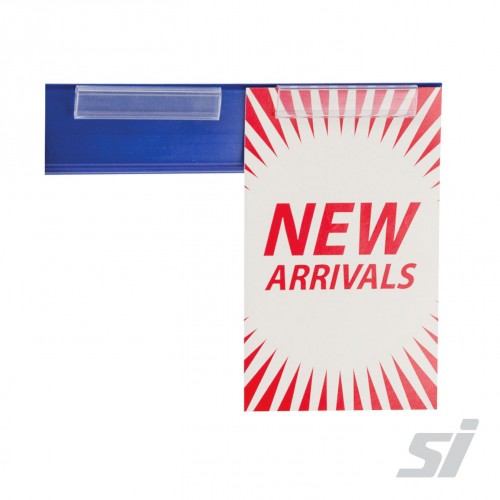 A shelf talker is a great in-store marketing tool. It is very effective at driving sales; but how do you choose among all the different designs and names of shelf talkers? Which one will be perfect for your needs?
BEFORE CONTINUING YOU MIGHT WANT TO VIEW THESE BLOGS TOO:
What is a shelf talker and what else do we call them?
What is the role of a shelf talker?


THE DIFFERENT TYPES OF SHELF TALKERS

Custom printed shelf talker: It will usually be made of one material, cardboard or laminated and be entirely custom printed. This is usually provided by brands in a retail environment. These shelf talkers are usually used to promote the brand's campaigns or the benefit of their products. Often they are in the form of shelf wobblers. The best places to purchase these products are probably printing companies but SI Retail can custom make them when large quantities are ordered.
The shelf wobbler clip: It is a talker hardware clip, which will hold the promotional ticket and enable it to hang down and wobble. There are many different designs available.
An adhesive spring wobbler fits any flat surface. It holds the tickets out from the shelf and wobbles when touched.
Shelf talker grips are the talker hardware clips, which hold tickets. Stores will use them to promote new products, bargains or slow movers. There are many different designs, sizes and certain hold thicknesses available.
The basket shelf talker grip clips onto wire displays. You can also use 2 together to grip a large sign.
Vertical shelf talker grips sit perpendicular to the shelf at a 90-degree angle. The grip clips onto the front of flat data strips.
Fixed shelf talker grips clip onto flat data strip and holds the ticket against the shelf.
The hinged shelf talker grip clips onto flat data strip. The grip flips up to reveal previous pricing.
Adhesive sign holder grips are a quick and easy signage solution that adheres to almost any surface. Available in 25 and 75mm lengths, this sign holder is great to display promotional tickets on shelves that do not have data strips.
Shelf talker data strips are data strips with a grip at the top where you can slide in promotional tickets. It is perfect for shelves with multiple promotions because you do not need to purchase additional clips, which are often lost. You simply slide the ticket in the data strip grip. Moreover, the grip is small and transparent; it is almost invisible and does not clutter your data strip.
Angled talker data strips are similar to above yet sits at an angle, which increases the visibility of pricing on lower shelves.
Shelf talker flip scan label holders are display hook label holders with a grip at the top to slide promotional tickets into. They are the same system as the talker data strips but cut in size to suit display hooks.
There are many more types of shelf talker clips and grips on the market, listed above are only a few of what SI Retail stock. If you still need help to choose the perfect shelf talker, please give us a call and Trish, Di or Ellie will be more than happy to advise which will best suit your situation. SI Retail can also custom make any shelf talker designs depending on quantities required.