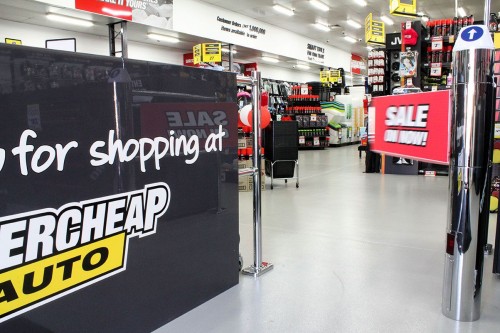 Here at SI Retail, we are proud of the fact that we can provide more than just your basic Shopfitting needs. We have the capabilities, knowledge and experience to turn your visions into a reality whether you need custom displays, flooring or full store fitout. We combine this expertise with both our team based in Australia and in China, who work together to make sure your custom product is made using the best equipment on the market, at a rate that is affordable to you.
For many years now, SI Retail has been managing custom projects for our valued customers, based on their individual requirements. Recently, Supercheap Auto came to us with an idea in mind, they provided us with the specifications and we took care of the rest, paying careful attention to every detail along the way.
What started initially as a concept for an automatic entry gate has turned into a reality over just a few short months. Now, we are able to provide the gates to over 80 Supercheap Auto stores throughout Australia, within the next financial year. As this gate is electric, it proves that using the latest designs and technology, SI Retail is able to cater to your every shopfitting needs. As a team, we look forward to opportunities to learn more within the industry and we thrive on taking on diverse projects, which require new capabilities.
Throughout this project, we were able to successfully meet every requirement that our customer specified, at an affordable price and appropriate lead-time. Once the project came to completion, we asked for feedback to ensure we went to every length possible to provide the customer with what they needed and more. Supercheap Auto said they were extremely satisfied with our level of knowledge and expertise on this project, as well as excellent quality of goods and services.
"Overall we are very happy with the entry gate supplied by SI Retail; it's always good to deal with Beatrice, our Strategic Customer Support Manager at SI so we are extremely likely to complete another project with SI."

Patrick Turner, Property Services Project Manager at the Super Retail Group.
Here at SI Retail, shopfitting is our passion and it is our aim to provide you with the custom creations you envision with excellent attention to detail. Contact one of our client managers on 1800 211 122 or by email at info@siretail.com