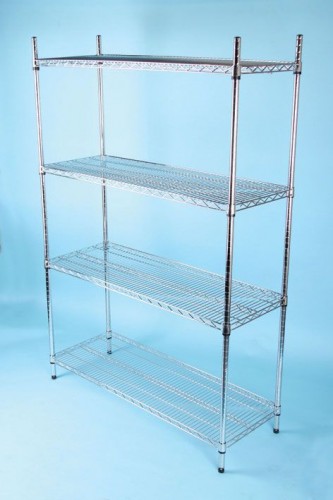 At SI Retail, we are very pleased to announce our new range of wire storage racks. From storerooms and warehouses to workshops and garages in your own home, SI Retail's new wire storage racks can help you to clear valuable floor space and manage your goods or excess stock.
These new wire storage racks are 1800 mm high, but there are options for length (900 mm or 1200 m) and depth (450 mm or 600 mm). Each shelf can hold up to 125 kg, but it is recommended that the weight be evenly distributed across the shelves, and it is advisable to start from the bottom shelf and work your way upwards, so as to ensure that the centre of gravity is as low as possible.
With 4 tiers each, the new racks come in either black or chrome and extra accessories are available to tailor the racks to suit your needs. You can add Wire Rack castors and Wire Rack handles for easy manoeuvring in store and out the back. Fencing for around the shelf and colour-matched Wire Rack dividers are also available, which is especially handy if you are using these racks as an in store display.
Ideal for hospitality kitchens, our wire racks can be used for storing pots, pans, and other cooking utensils, or they can be used in your cold rooms! Because these racks are made from zinc-coated steel with a powder coat finish, they are suitable for cold rooms. The finish is hardy and robust and the zinc coat will prevent the metal from rusting - even if the finish does get scratched.
In retail settings, you can place these new racks in the storeroom and use them for storage, or you can place them âon the floor' and utilise them as an in store display. By using multiple racks and adjusting the heights of the shelves, you can create an effective display that draws attention to your products.
Although the packs come with 4 shelves, you are free to use 3 or 2 shelves in order to vary the shelf height to fit your products. With these new racks being so easy to assemble and adjust, you'll always be able to manipulate the shelf height and configuration to suit your requirements.
As always, our prices at SI Retail are highly competitive, and the affordable pricing on the wire storage racks is no different. To purchase SI Retail's new wire storage racks, phone 1800 211 122 or shop online at www.siretail.com.au.