Dear Friends,
Our company SI Retail has a strong connection to Tacloban City and Dulag, areas in the Philippines devastated by Typhoon Haiyan - and we are asking for your help.
Family members and staff live in the region. One has died and all families are on the streets with their homes completely destroyed, all their belongings have gone. It has been a terrifying time.
During the storm everyone had to find safe places as flood waters from the storm surge rose. Crisologo, who had foot surgery a few weeks ago, couldn't outrun the rising waters and died trying to escape.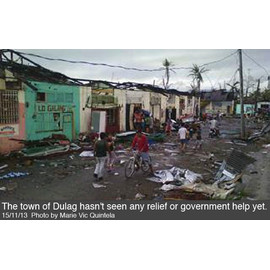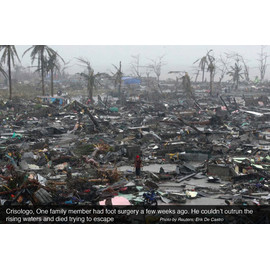 A neighbor took two of the children away but in the confusion they were separated from the family and they only found them 5 days later.
Randolf took his family to Ormoc City before the storm hit and then walked for three days back to Tacloban without food to try and find the rest of the family.
Romeo and his family were missing until today. They made a makeshift shelter on the side of the road with debris after their house was swept away. There is no help in Dulag yet, so they are waiting desperately needing help.
People are rummaging through the debris trying to find clothes to wear. One person found a toothbrush and now that is being used as a communal toothbrush.
Tacloban City is being evacuated and 24 members of our family got in a truck last night (November 13) heading for Ormoc City on the other side of the island. It is expected to take 12 hours to get there. Once there they will catch a ferry to Cebu where some of them will stay with another relative and the others will go to Manila to stay with my family.
Only half the family were able to leave Tacloban as there was no more room in the truck however on the journey people were jumping on and holding on trying to get a ride out.
Jerome Cahuya, our Engineer based in our China office, also lost his house in the storm as well.
This video was taken by somebody in Dulag before the storm surge actually rose. People were standing there, as spectator not knowing what was going to happen.
We have begun this fundraising drive to specifically help these families devastated by the Typhoon. If we are able to raise enough funds we will also help neighbors and friends as they are all affected.
Our aim is to help out in three stages:
Stage one - Relocation
We want to provide the best accommodation to keep the family units together and supply clothing and the basic needs to last for the next few months. The children will also need school supplies. We will be able to help with accommodation at our house in Manila as well as relatives in Cebu. Funding will need to go to travel expenses, food, clothing and basic bedding etc.
Stage two - Rebuilding
As there are six family houses destroyed, this is the largest cost the funding will need to go towards. As soon as the land is cleared and the basic infrastructure and supply chain is restored the families will begin to build modest homes so they can begin rebuilding their lives.
Stage three - Resettle
The funding will help in transport costs and resettling. This stage can also be helped by donations of physical goods like household items, bedding, kitchenware, electronics and many other items.
Your donations will go directly to these families and will be managed properly to achieve our goals. Throughout this whole process we will be updating you on their progress and what your donations are being used for.
Like our Facebook page to receive updates as they happen
We have now set up a platform to accept donations for our family members in the Philippines. We are managing it through our company on a professional donation site. The funds are regularly collated and we manage the distribution directly to the families and inline with our goals of Relocation, Rebuilding and Resettlement. If funds permit we will also extend these same goals to neighbours and friends in the communities.
Please go to: https://www.mycause.com.au/page/typhoonhelptaclobandulag
Your help whether large or small is vital for these families to not only get back on their feet but to feel self respect and to appreciate the kindness of the people they have never met.
Please let us know if you would like to help
Thank you,
John Fuller | Managing Director | SI Retail Pty Ltd