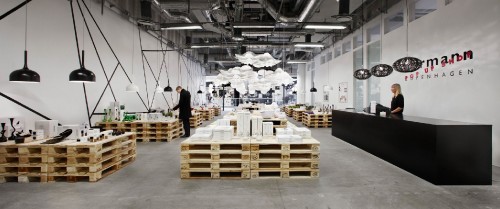 Pop-up stores have become a must for retailers of all sizes. They offer great flexibility and can be used for a lot of different purposes. It is not a new phenomenon any more but a proven marketing channel. Pop-up is a simple, low-cost and low-commitment way to get in front of customers and try out new things.
What is a pop-up store?
A pop-up is a store that appears within a very short time. It opens with fanfare, is often well promoted via traditional and social media and then seems to close just as suddenly as it opened.
How do pop-up stores work?
Pop-up stores create mystery, curiosity and a sense of urgency. They generate excitement and entertainment by popping up at unexpected location and by using unusual fit-out, bold graphics, special guests and activities.
Pop up takes all sorts of forms; a bus, a digital wall, a tent or a section built in a department store.
Who uses pop-up stores?
The industry leading the way is fashion, some are start up companies and others are established labels.
E-commerce retailers are also using pop up stores to increase loyalty and trust with their customers.
Big brands such as Nike and Samsung design pop-up stores to raise brand awareness. They do not push sales but instead experience through events, activities, competitions and workshops.
Where are pop up stores?
Pop-up stores enable you to be where your customers are. It is a great tool for retailers selling seasonal products or to sell products at a location that your customers visit seasonally. I have recently read an example of a good pop-up store execution in Retail Consultant.
Roots Canada, for example which sells casual garments saw an opportunity to reach some of their customers on their way to a holiday in the country. They set up a pop up store at the popular burger joint Weber's on Highway 11, a busy route to cottage country. As this is a seasonal rite of passage, pop up store is the perfect selling tool.
Pop-up stores are also perfect to test a location before setting up a brick and mortar shop. For new retailers, a pop-up store is a low-risk way to try out a physical store presence.
When are pop up stores used?
They usually pop up during holidays such as Christmas, Halloween. They follow seasons, celebrations or customer's behaviours. Pop ups are temporary stores that last anywhere from one day to three months. They can be a one off activity or a recurring annual event. Some are built in a mobile format so they can travel to various locations.
Why are pop up stores used?
A small business owner might use a pop-up store to test their business model, try a location or research their target market and product mix before launching.
An established, larger retailer will be more strategic. They will use pop-up to build customer awareness, offer promotions, or undertake research into their locations and demographics.
They are great for brands to test the water before setting up a permanent store or to test a new concept, product or design. Brands, retailers, and agencies tend to build pop ups for two reasons, says Ilona Taillade, co-founder and CCO of BrandSpots, In Inside retail.
"Firstly, pop ups are a tool to provide feedback and an opportunity to get to know the consumer. Secondly, pop ups are a testing spot to find out what works and what doesn't", says Ilona.
They also provide great PR; because of their temporary aspects they are considered news.
Finally, they are a great way to attract a different target market and to revive the loyalty of existing customer. They keep the interest and spark alive.
More resources
Pop UP shops Melbourne is published as an on-line forum for sharing exciting news and popular views around the global phenomenon of pop up sales (otherwise known as pop up retail) and temporary installations.
Check out the best pop-up store concepts here
SI Retail can source most displays and fixtures directly through their office in China. Are you looking for something specific? What other fit out products do you need for your store? Let us know and we will do our best to source or manufacture it, so give us a call today on 1800 211 122 or send us an email at info@siretail.com.