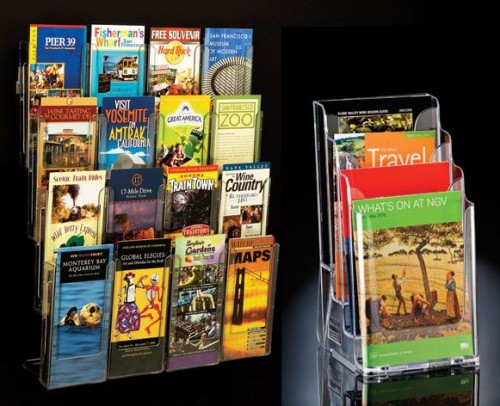 Brochure holders and displays allow you to put important information, such as sales tools and marketing collateral, right in front of your customers without necessarily being too pushy or âin their face'. SI Retail has a complete range of brochure holders and catalogue stands available to suit your needs - whatever they may be.
Hotels, motels, caravan parks, travel and booking agencies, tourist information kiosks, and souvenir shops can all utilise SI Retail's extensive collection of brochure holders and catalogue stands to their benefit.
SI Retail's carousel stands allow your A4 or DL brochures or postcards to be viewed at every angle, and customers can rotate each level as required. This means that more than one person can be viewing your brochures at any given time. The top connector can also be used as a sign holder, providing you with a further promotional opportunity.
Portable literature trolleys are double-sided and can hold larger quantities of brochures, from 8 to 16 A4 brochures per side, 20 to 40 DL brochures per side, or 21 postcard brochures per side. SI Retail's literature trolleys are on castors so they can be easily manoeuvred.
For those businesses that are a little âspace poor', the wall mounted brochure holders are an excellent solution. Available in A4, A5, DL and postcard sizes, SI Retail's wall brochure holders allow you to create a cascading wall display. The unique style of the Expanda Stand range allows brochure holders of various sizes to be clipped together to create multi-level displays to suit a range of spaces or document sizes.
Catalogue stands and counter brochure holders are ideal for real estate agencies, offices, foyers, and reception areas.
The catalogue stands come with a sturdy base and either an acrylic basket with an A4 portrait sign holder on top, or a wire basket with an A4 portrait or A5 landscape sign holder on top. These stands are perfectly suited for the Homes Pictorial - or your latest catalogue - to be placed outside your storefront or inside your store entrance.
The basic, single-level counter brochure holders can hold A4, A5 or DL brochures on your counter, or, by using a bracket adaptor, can also be used on pegboards and slotwalls. The all-in-one multi-level brochure holders can hold up to 4 different A4, A5 or DL sized brochures on your counter.
Whatever you are using your brochure holders or catalogue stands for, remember to always keep them fully stocked with current offers and up-to-date information, and ensure that they are always tidy and well presented!
To view the full range, visit www.siretail.com.au. Alternatively, why not phone us on 1800 211 122 and speak with one of our friendly staff? If you are located in Brisbane or on the Gold Coast, remember that you can pop in to our showroom on any weekday between 8:30 am and 4:00 pm.