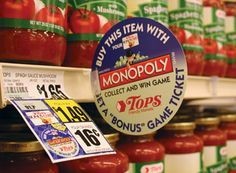 A shelf talker is a great in-store marketing tool for retailers of all industries. It is very effective at driving sales whilst offering a quick and inexpensive method of advertising specials or promotions. Shelf talkers also allow retail stores to promote specific details of a product - for example the benefits of that product over similar products, what the product is best suited to/used for and whether it is cheaper than the same product elsewhere (encouraging impulse buys). They are beneficial for pointing out any 'free gifts with purchase' or 'offers' on that particular brand. They are an economical way to advertise throughout your store and to point out product features that will appeal to your consumer of that product.
Read full definition here:Â What is a shelf talker?
THE ROLE OF SHELF TALKERS:
Introduce new products
Introduce improved products
Promote specials or seasonal products
Advertise promotions or offers available
Highlight a products selling points
Sell slow moving products
Promote additional services/benefits
Raise brand awareness
Help the customer choose among a certain brand's range of products
Guide the customer in aisles. For example in the beauty department of a supermarket, a bold statement that reads "for blonde hair" will attract people with blonde hair to look at that specific shelf and the products merchandised on the shelf. This assists the customer in finding what they are looking for more quickly. 
Shelf talkers can also help to further divide aisles into subcategories.
Advertise certain benefits of a product. Promoting the health benefit of an item or that it is Australian made will attract the right target market.
There are many types of shelf talkers on the market and SI Retail offer a large variety. If you need any help to choose the perfect shelf talker, please give us a call and our friendly customer service team will be more than happy to assist by directing you to the product that best suits your needs. SI Retail can also custom make any shelf talker designs depending on the quantities. In the meantime, check out our current shelf talker grips and clips available for purchase below OR choose a data strip with inbuilt talker grip allowing you to highlight items which may be on sale or in your most recent catalogue.
SI Retails brand new talker grip* is available on most of our data strips (otherwise known as scan strips) and helps reduce costs spent on grips and clips which can get bumped or moved out of place. The talker grip is incorporated into the data strip whilst maintaining a neat shelf strip for barcodes or labels. By combining your scan strip and shelf talker grip functionality, your store will look neat and tidy; in addition to saving costs long-term (in continually having to purchase more grips as they get lost). 
*Standard Patent Pending No 2018204559 and Granted Innovation Patent No 2019100606
SI Retails products are all manufactured to meet in-house quality control standards - so you know you're getting the best quality when shopping with us. You can expect perfectly clear grips with high quality adhesive and no abrasive cut lines. Start promoting your products more effectively by purchasing shelf talker grips, wobblers or data strips with talker grip from SI Retail TODAY and feel rest assured that you are buying from an Australian owned and operated family business who pride themselves in customer service. To view and purchase talker grips online, see the below links.
Click to view Shelf Talker Grips & Wobblers