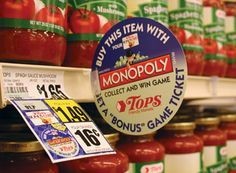 A shelf talker is a great in-store marketing tool. It is very effective at driving sales whilst offering a quick and inexpensive method of advertising specials or promotions.
Read full definition here: What is a shelf talker?

THE ROLE OF SHELF TALKERS:
Introduce improved products
Sell slow moving products
Promote additional services
Advertise seasonal products
Help customer choose among the brand's products
Guide the customer in aisles. For example in the beauty department of a supermarket, a bold "for blond hair" will attract all the people with blond hair to the specific shelf. Shelf talkers help to further divide aisles into subcategories.
Advertise certain benefits of a product. Promoting the health benefit of an item or that it is Australian made will attract the right target market.
There are many types of shelf talkers on the market. If you need help to choose the perfect shelf talker, please give us a call; Trish, Di or Ellie will be more than happy to direct you to the product that suits your needs. SI Retail can also custom make any shelf talker designs depending on the quantities.