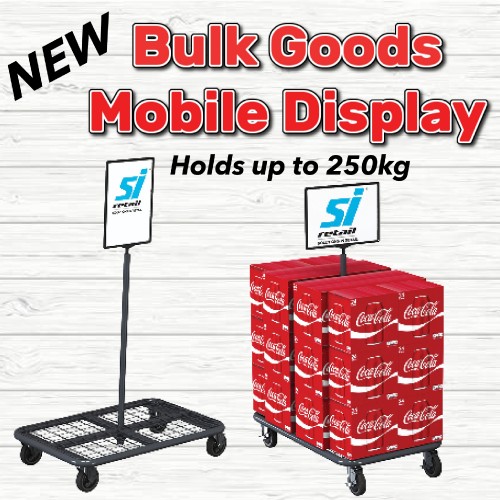 Requests for custom-made mobile displays are becoming increasingly common as stores seek units that can be placed and moved around with ease. Mobile displays allow you to take the product to the customer by displaying them in direct view as they enter your store. Other benefits of mobile displays include being able to use floor space more effectively and quickly/easily changing or moving displays that aren't working.
Recently, we designed and manufactured a custom mobile display capable of carrying large and heavy loads (up to 250kg!). We developed this item specifically for convenience stores, corner stores, small supermarkets and petrol stations but it can be used in many other industries and for many other applications.
Charcoal is a popular colour in fixtures and fittings throughout the world, so it was an easy choice when deciding what colour to powder-coat our bulk goods mobile display.
Perfect for heavier products such as cans of soft drink, toilet paper or bottled drinks, this unit makes moving and displaying (those usually heavy or awkwardly sized) products easy.
The Bulk Goods Mobile Display boasts features such as:
Powder-coated, steel base construction to support a variety of multi-packs and other heavy products.
Centre pole (when locked into the base) can be used as a steering aid.
Rounded steel tubing and rounded corners on the base for safety precautions.
Includes an A4 black ticket frame (interchangeable so other sizes and colours can be used).
Heavy duty lockable castors for easy mobility.
Strong and durable for many different types of uses in-store.
Positive feedback was received at the C&I show in Melbourne last month and the design has been so popular that we have manufactured even more! All in stock and ready to be shipped, you can now purchase a bulk goods mobile display for YOUR store here! But don't delay, they wont last long!