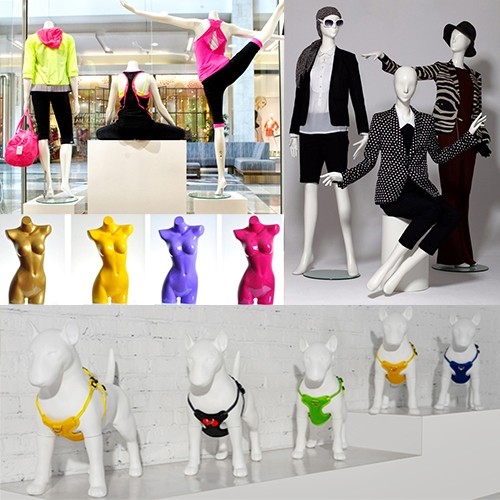 How do mannequins bring customers in and increase sales?
Merchandisers in the fashion and retail industries are highly aware of the impact a well-accessorised mannequin can have on their sales. Customers are immediately drawn to visually appealing displays as they can get a better idea of how the clothing will look on them, versus seeing the same outfit on a hanger. Adding other accessories such as shoes, jewellery, or even a water bottle to a mannequin can also encourage last-minute add-on sales. Customers are often inclined to purchase complementing accessories if they see them on an eye-catching display.
What are the benefits of using mannequins?
Not only do mannequins drive sales and create versatile displays, but they also fill areas which would otherwise remain empty and unused. In retail spaces, unused areas are a missed sales opportunity. Consider placing mannequins near windows to encourage passers-by. Window displays are great for catching a shopper's attention and driving them in-store. A window is often the first impression a customer has of your store, ensure you showcase your best merchandise pieces to increase the likelihood of a shopping entering the store. Create fun and unique displays in empty areas in your store to encourage a more positive and enticing shopping environment whilst inviting more opportunities for increased revenue.
What types of mannequins should I display?
When deciding what type of mannequin would work best in-store, the choices are endless. Factors that should be considered are what kind of products you sell, the store environment, current trends, as well as the type of customer you are targeting.
What kind of mannequins does SI Retail supply?
Consider a mannequin head if you are promoting jewellery such as earrings, necklaces and head pieces. These types of mannequins are also perfect for displaying wigs, hats and beanies and would also be a great way for trainee hairdressers to practice cutting hair.
Hand mannequins can be styled with rings, bracelets and gloves to create eye-catching displays and prompt impulse purchases from customers.
Full body mannequins are great for accessorising with clothing such as activewear, outdoor wear, current fashion trends, shoes and much more. The possibilities to personalise your store and stand out from the competition are endless.

SI Retail can supply mannequins in many forms including:
Mannequin Heads
Mannequin Hands
Abstract Mannequins
Sporting Mannequins
Headless Mannequins
Ghost Mannequins
Torso Mannequins
Child Mannequins
Animal Mannequins
These choices come in a variety of colours, sizes, shapes and materials.
What is the process for custom-designed mannequins?
SI Retail offers customers a wide range of customisable mannequin displays to suit customer needs perfectly. With low minimum order quantities, displays can be produced with lower overhead costs for clients. To start the process, the customer outlines exactly what kind of display they are looking for. A catalogue is then sent to them with a selection of styles, sizes and colours which may be suitable. Various component compilations are available to achieve a fully customised mannequin. Upon completion of the design phase, a prototype is developed and QC photos are sent through to the client to ensure the final look meets their expectations. Once approved, production and manufacturing will commence.
If you feel like your store could use mannequins to highlight your products and drive sales in-store, get in touch with our friendly customer service team today to enquire.
In the meantime, take a look at the mannequin roll-out we did for BCF by clicking here!