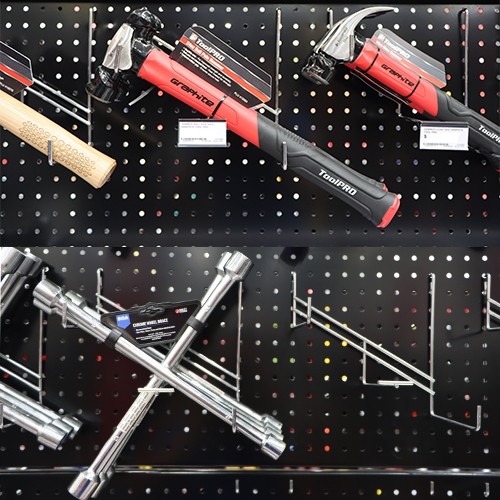 Do you need to hang heavy-duty products?
SI Retail has display hooks for hardware stores to hang specific products such as shovels, hammers, grinders, sanders, saws and drills.
SI Retail's hardware hooks are strong and stable and they are designed to suit any pegboard, metalboard or slatwall. They also feature a label holder so that your products are easily priced.
These special hardware hooks fit perfectly on our new Versa metal gondola range. Our Versa gondolas are perfect for hardware stores because they are available in Heavy-Duty with bigger, stronger uprights and legs to display heavy products. They also feature shelves with reinforced gussetts unlike others on the market made with thinner metal and brackets which cannnot hold substantial weight. 
SI Retail gondolas are infinitely customisable. They are available in single and double sided and you can choose to include a combination of pegboard, flat wall or slatwall to create your own display. You can even choose from three different colours - black, light grey and now white.
Please don't hesitate to contact our friendly team on 1300 434 775 or at info@siretail.com and we will find the perfect solution for your needs.