Versa Gondolas
The most versatile shelving system in the market!
Each shelf holds up to 105KG*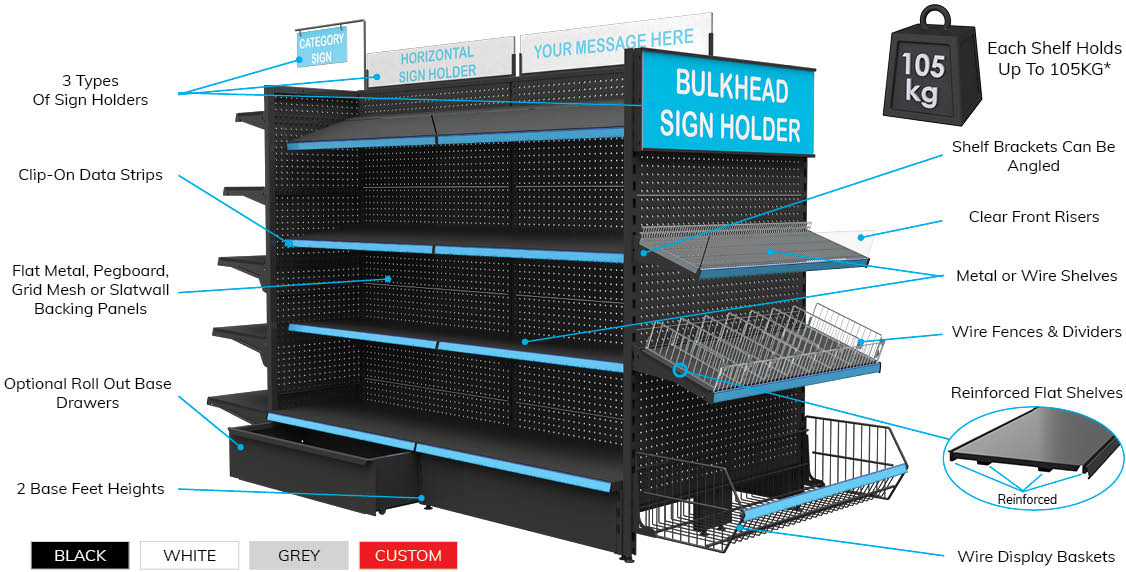 Filter
Showing 1 - 6 of 6 products
Filter
Showing 1 - 6 of 6 products
Versa Gondola Shelving
If you are looking for the best store shelving in Australia, Versa gondolas are it! Made from heavy-duty metal components, Versa gondolas feature strengthened shelves and thick metal to hold a variety of different store merchandise in all retail industries such as FMCG (Supermarkets, Petrol Stations and Convenience Stores), Automotive, Hardware, Electrical, Sports and Leisure, Homewares, Department Stores, Pharmacies and many more.
We ship our retail gondolas and shop shelving nationwide to all states (QLD, NSW, VIC, SA, TAS, NT and WA) and cities such as Brisbane, Gold Coast, Melbourne, Perth, Tasmania, Sydney, Darwin, Newcastle, Adelaide and anywhere in-between!
There are three colours of shop shelving (Black, White and Grey) and four types of gondola shelving backing panels to consider for your retail store!
Choose from Volcano Pegboard, Slatwall/Slotwall, Grid/Wire Mesh or Flat Metal shop gondolas:
Premium Grade Steel
This heavy duty, thick steel gondola shelving system features reinforced gussets on Versa shelves to enable a load capacity of approximately 150kg* per shelf (based on 350mm deep shelf with strengthened brackets and weight distributed evenly across the shelf and centrally across the gondola bay).
End Bays, Aisle Shelving, Wall Shelving and Gondola Aisles
Versa is so versatile it can be used against walls (single-sided), to create aisles (double-sided) and to finish off your aisle (with the use of end bays or end caps). Even if you have used one or both of these options in the past, you will still need to consider which type of shelving is best for your store. Most retail stores use a combination of wall shelving and aisle shelving with tall single-sided gondolas against walls and shorter double-sided gondolas for aisles.
Truly Customisable
With a vast array of custom combinations and accessories, SI Retails Versa Gondolas suit any store layout within any retail industry!
Due to having separate feet to the upright posts, Versa is available with either a higher or lower base foot/base shelf. This allows fantastic customisation when planning your store.
Versa shelving kits are available with your choice of height, width, backing panels and base shelf size. Just add your shelving accessories.
Versa gondolas come powder-coated black, white or grey in standard sizes listed on the product page. Other colours, sizes and customisations can be created specially for you*!
*Lead times and minimum order quantities apply.
Endless Possibilities
Customise your Versa shelving display with a variety of accessories such as gondola shelves, top covers, kick plates, shelf risers and fences (wire or acrylic), base drawers, horizontal or hanging signage and display hooks. Versa gondolas also integrates seamlessly with SI Retails EZI-Q® (In-Queue Merchandising System) to accept wire baskets and magazine racks on 914mm widths.
Two types of shelves offer versatility in the look and feel of your store. Choose from wire shelves or flat metal gondola shelves. Both styles accept clear acrylic risers whilst flat metal shelves have the ability to also accept wire fences and dividers.
Risers stop products from falling, whilst maintaining an unobstructed view of the product - perfect when positioning shelves on various angles.
Flat metal shelves enable better data strip visibility with its angled front edge. Both shelves allow for our exclusive Clip-On data strips which require no adhesive whatsoever!
Finish off your shelving display with LED lighting for retail shelves. LED shelf lighting enhances the overall display of products and draws attention for maximum sales. Further categorise bays by brand, product type or sales promotions with the use of bulkhead lightboxes.
Are you ready to improve your retail shop shelving?
If you are ready to move forward with the next process in your retail store design, view our Versa selection of shop shelving above If you need any assistance then please don not hesitate to reach out to the experienced team at SI Retail.