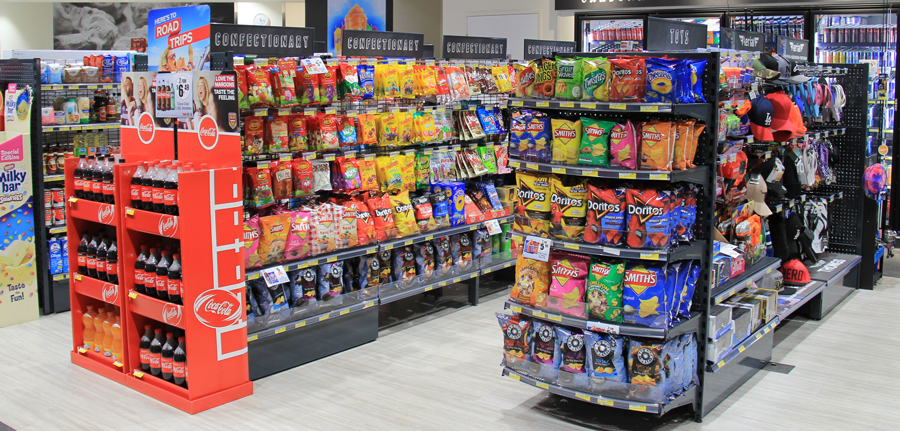 Filter
Showing 1 - 6 of 6 products
Filter
Showing 1 - 6 of 6 products
SI Retails range of retail shop shelving is available in a variety of heights and widths with hundreds of

accessories

.
All Versa retail shelving kits are offered in single-sided or double-sided configurations; in colours black, white or grey. Custom coloured shelving gondolas can also be requested in order to suit your brand or store colour scheme. This makes Versa retail shelving the most versatile shelving system in the market. Ideal for all types of retailers from convenience stores, news agencies, petrol stations and supermarkets to clothing stores, pharmacies, sports centres and hardware outlets.
Begin with a Start Bay (2 x upright posts, 2 x feet and base shelf) then join Add-On Bays (1 x upright post, 1 x foot and base shelf) to form a row of shelving in your store. Create aisle shelving by adding end caps or end bays to finish off a run of double-sided gondolas.
Larger department stores looking for full store fit-outs can also benefit from our customisable Versa gondolas since we can make shelving to your specific requirements or change anything to suit your store more perfectly. We can even drop ship, bulk shelving orders direct to your distribution centre. Contact us today to find out about the unlimited possibilities of this versatile shop gondola shelving system.
When it comes to retail shop shelving, product displays are key to driving sales. They not only provide a way to showcase your products, but they also give customers an easy way to find what they are looking for.
To get the most out of your retail shop shelving, there are a few key elements to consider.
Visibility: Customers should be able to easily see the products that you are offering. Make sure that all of your shelves are well-lit and clearly labeled. This will help draw customers' attention and make it easier for them to find what they are looking for.
Variety: Customers should be able to find a variety of products on your shelves. Consider offering items in different sizes, colours, and styles. This will give customers more options and increase the chances of them finding something they like.
Organisation: Keeping shelves organised will make it easier for customers to find what they are looking for. Use labels and dividers to separate items on your shelves and make sure everything is in its proper place.
Cleanliness: Cleanliness is key to keeping customers in your store. Make sure to regularly dust and wipe down shelves to ensure that products are free from dust and dirt. By following these tips, you can get the most out of your retail shop shelving and make sure that your product displays are driving sales. A clean and inviting store will help to create a positive shopping experience for your customers.
By following these tips, you can get the most out of your retail store shelving and make sure that your product displays are driving sales. In addition, you should take the time to rearrange your shelves every now and then. This will help customers find items more easily and can also provide an opportunity to introduce new products and ideas. Additionally, make sure to follow any safety regulations and keep items securely fastened to the shelves. This will ensure that your store is a safe and secure environment for your customers.
Finally, make sure your store is easy to navigate and customers can find what they are looking for. Customers should feel welcomed and comfortable in your store.
Use these tips to create an efficient and organised retail store. Remember to keep a neat shop display and keep up with the trends. Your customers will appreciate it and your store will be much more successful.