Flat Metal Kits
The most versatile retail gondola/shelving system on the market! Perfect for large or heavy merchandise. Kits include flat metal panels.
Features
This item is for Versa kits containing flat metal backing panels. Flat metal gondolas are the most affordable style of retail shelving. Also available are kits with volcano pegboard, grid mesh or slatwall backing (Slatwall shelving is made to order).
Once you have decided on a backing panel and the configuration you require, begin with a START bay and choose the height, width, base shelf depth and base feet height to create a kit. Then choose ADD-ON bays in the same configurations to join onto your start bay and form the gondola or wall shelving.
Add-On bays only contain 1 x upright post and 1 x foot as they attach onto the Start bay which begins the row of shelving using& 2 x upright posts and 2 x feet. All kits include a base shelf, add extra shelves and brackets separately.
KEY FEATURES:
Made from premium grade steel with a 50mm pitch.
Powder coated black, white or light grey. Custom colours are also available upon request (call us to find out more).
Designed and produced to only the highest European standards.
Feet are separate to uprights - not welded like others in the market (achieving savings in freight and for versatility - allows stores to change the base shelf height on each side of a double sided gondola to add base drawers on one side only if they wish).
Thicker 0.8mm shelves with reinforced gussets to support heavier merchandise. Meaning shelves won't bow over time with heavy loads (unlike cheaper shelving systems in the market).
Versatile shelf with angled edges for better data strip visibility. Shelf accommodates wire fences and front risers, perfect when positioning shelves on various angles.
Optional accessories include top covers, sign holders, lightboxes, base drawers, wire baskets, magazine racks and front kick plates which are each sold separately.
Suits Clip-On data strips (DS-Q) or Clip-On data strips with the exclusive talker grip (DS-QTG) which aid in keeping a clear riser or wire fence in place.

These data strips help stores reduce supply and labour costs - saving you thousands over time!
They won't fall off SI Retail shelves so there is no need to replace them.
Reduced labour costs as there is no need to clean adhesive off shelves - time can be spent elsewhere in the store.
No need to purchase both flat and angled styles - the one data strip can be positioned in either flat or angled positions on Versa flat metal shelves.
PLEASE NOTE: If you require data strips for Versa shelves, please purchase 585-587mm data strips for 600mm wide shelves, 900-902mm data strips for 914mm wide shelves or 1185-1187mm data strips for 1200mm wide shelves.
The following Clip-On style of data strips can be purchased in the correct size, otherwise any data strip can be cut down to size (at an additional cost).
Clip-On Data Strips (can be positioned either angled or flat) (DS-Q)
Clip-On Data Strips with NEW exclusive talker grip (DS-QTG)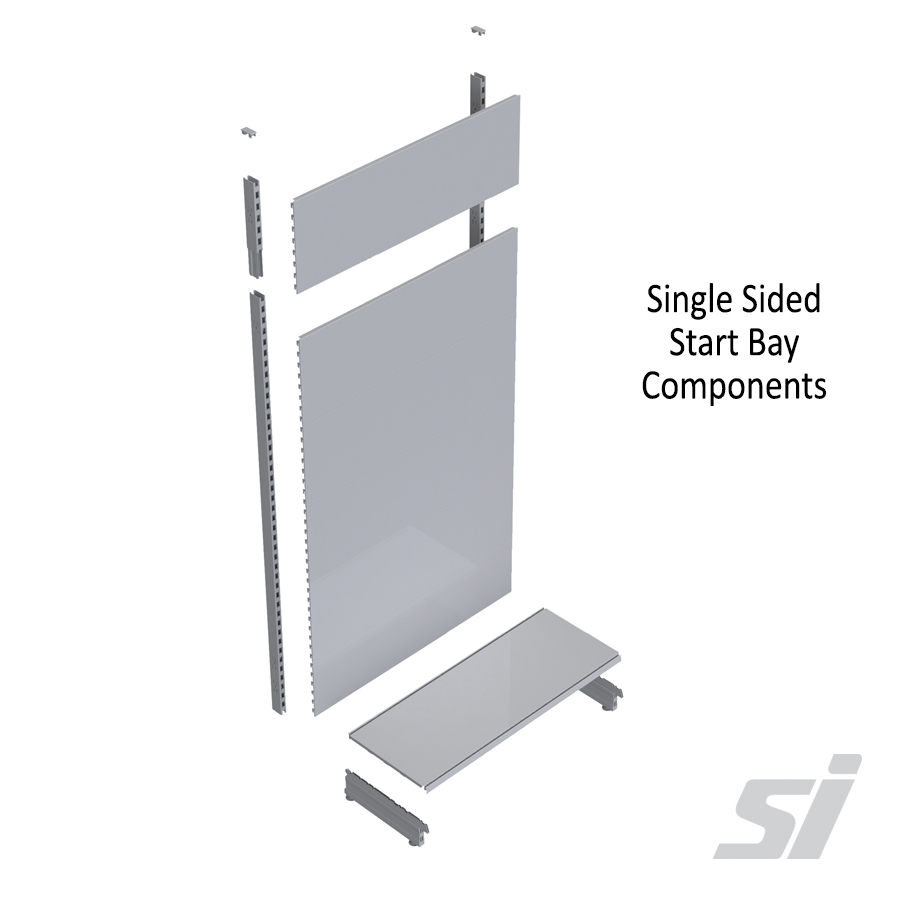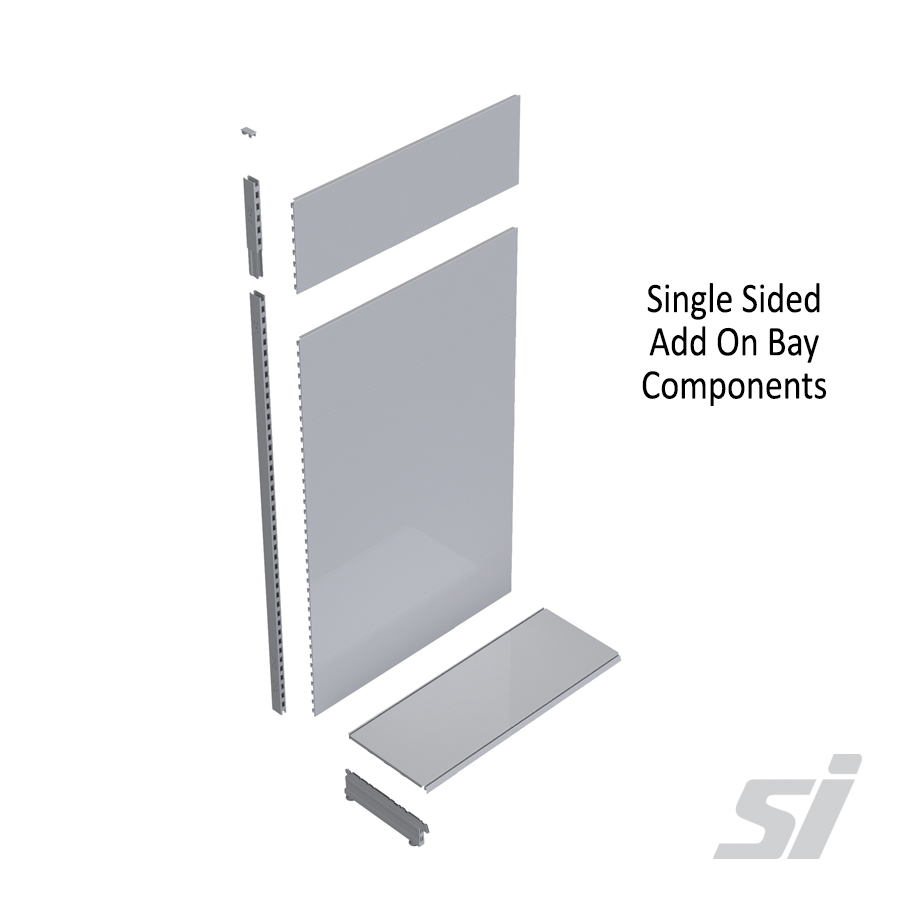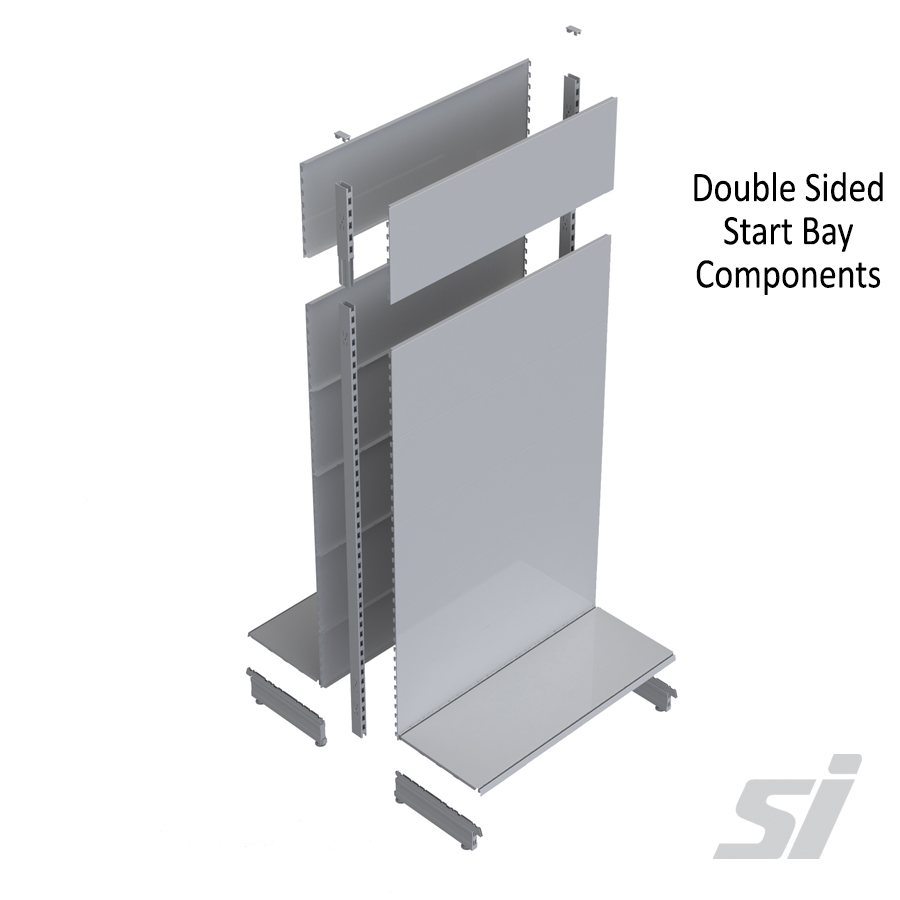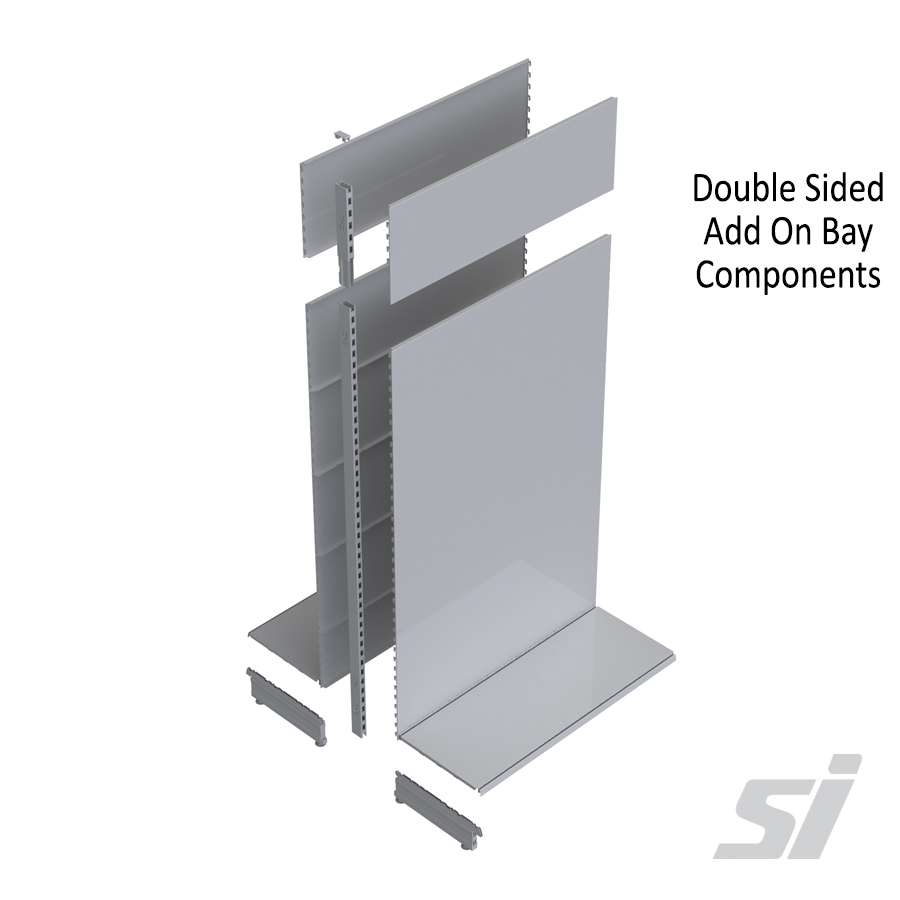 *Pictures for illustration purposes only. 1800mm high x 914mm width with 160mm high feet and 400mm deep base shelf shown.

The Versa Installation and Weight Ratings Guide can be downloaded by clicking the link under "Documents" located at the top right of this page.
Specifications
Colours

Black, White or Grey

(Call For Quotes On Custom Colours)

Rear Panel
Flat Metal
Material
Premium Grade Steel
Strength
Heavy Duty
Heights
1200 (Black), 1400 (Black), 1500, 1800, 2100, 2400mm
Widths
600 (White), 914, 1200mm
Metal Shelf Thickness
0.8mm with Reinforced Gussets
Base Shelf Depths
350, 370 (Grey), 400, 470 (Grey), 450mm
Base Feet Heights
160, 260mm
Components
Start Bay, Add-On Bay, End Cap (separate item)
Configurations
Single Sided, Double Sided
Upright Post
60mm x 30mm with 50mm Pitch
Shipping & Returns
Add products to your cart to calculate shipping.
For your piece of mind, SI Retail accept returns! Items must be unused and sent back to us in resellable condition (at the buyers expense) for a refund within 14 days from date of delivery. Please see our Returns Policy for more information.
Flat Metal Kits
The most versatile retail gondola/shelving system on the market! Perfect for large or heavy merchandise. Kits include flat metal panels.