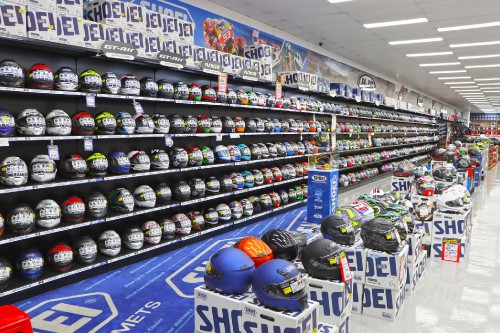 AMX (All Motorcycle Accessories) is part of the GPC Asia Pacific Group which includes widely recognised brands in the Australian automotive market such as Repco and Napa. AMX was formed to cater to their two wheel division (the motorcycle accessories market).
The team at AMX found SI Retail when looking for a local shopfitting supplier to roll out shelving and accessories for stores across the country. Their requirements encompassed products for new store openings as well as refurbishing some of their older stores.
The team at AMX visited the SI Retail Queensland showroom and were impressed by the quality of our products. They discussed their specific requirements for shelving and opted to go with our black Versa gondola range. They particularly liked the design of our product and the ease in which it went together.
AMX then provided us with a floor plan of the latest store they were building. Alongside one of our experienced salespersons, they discussed wall shelving and accessories such as crossbars and waterfall arms to suit their helmet and clothing range. They also selected our double-sided floor bays to display smaller items such as gloves and goggles.
SI Retail was able to supply a full-scale store on time by their requested onsite date and have since done several other full-scale store orders, as well as multiple refurbished stores.
AMX has since added our LED shelf lighting to complement the Versa shelving we supplied previously. These are now an ongoing supply item used to showcase their products.
We have a fantastic working relationship with the team at AMX and continue to assist them with their shelving, lighting and accessory requirements as they open more stores across the country.
View the project case study for full details and images of our shelving in AMX stores.