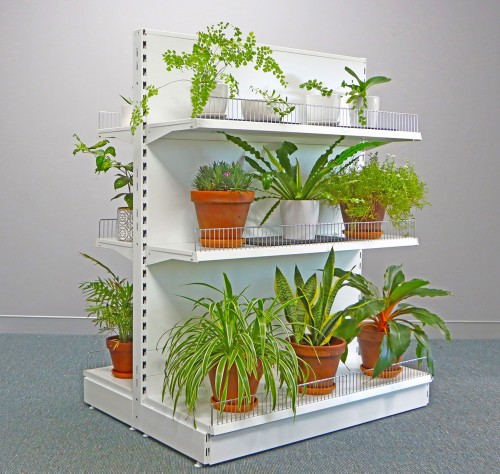 We've made some exciting changes to our popular Versa gondola shelving range. It's the same great system you know and love, with new features to refresh store appearances whilst highlighting your products to boost customer demand. Seamless integration throughout the range means a more effective product for our customers.
Some key features include the introduction of white Versa to complement the existing black and grey ranges. This modification creates a more easily interchangeable system. The inclusion of white Versa gondolas creates the perfect retail shelving system for pharmacy, homewares, newsagencies, gift stores, department stores and other retail industries wanting a fresh and clean finish.
Other changes include the addition of another base foot size. The Versa base feet will now come in two options. The standard 160mm height-to-base shelf enables the inclusion of a kick plate. Alternatively, choosing the 260mm height-to-base shelf creates a larger opening at the front for the optional under shelf drawers or for easy cleaning underneath the gondolas. The base drawers are perfect for additional storage at the bay location and are fitted with wheels enabling easy manoeuvrability.
Choose from volcano pegboard, grid mesh or flat metal backing panels. Slatwall panel shelving is also available on a per order basis and can be supplied if minimum quantities are met. Versa retail shop shelving is available in a wide variety of sizes (upright post heights: 1200mm, 1400mm (black only), 1500mm, 1800mm, 2100mm and 2400mm). We offer two standard width options (914mm or 1200mm), with 600mm also available in white only. Pick from three base shelf and foot depth choices (350mm, 400mm and 450mm). Shelf sizes range from 200mm deep up to 470mm deep, depending on the colour. This extensive size offering means you have a wide selection to choose from when planning the configuration of your store shelving.
Signage is important in any retail environment, so we made it easier to ensure your products stand out on our Versa gondolas with our acrylic and metal POS sign holders. When designing our signage, we allowed for the ever-changing store layout and created a variety of standout signage options to suit all store types for all retailers. Place your sign holders either above, within or at the top of your shelving. Pair these with hanging category identifier signs to promote specials or categorise items within your aisles.
Volcano pegboard gondola end caps complete an aisle of double-sided gondolas to neatly end the aisle and maximise available floor space. End caps are a great, cost-effective way to showcase your hang-sell and promotional products as customers walk past. They are available in two heights (1400mm and 1500mm) and two widths (740mm and 914mm). The two width options enable you to choose a size that best suits the base shelf depth on your adjoining double-sided bays. End caps are supplied with 'I Beam Tie Bars'. These suit the adjoining bay and add strength to the full aisle of gondolas.
For wall shelving, we have single-sided corner gondola kits to join a row of two intersecting wall bays.
If your store could do with a refresh, try out these great additions to our already extensive range. If you'd like more information, get in touch with our customer service team or visit us in our showroom to see all of our interchangeable systems in person! With exceptional, heavy duty shelving and so many optional add-on accessories, SI Retail has the perfect solution for every store.