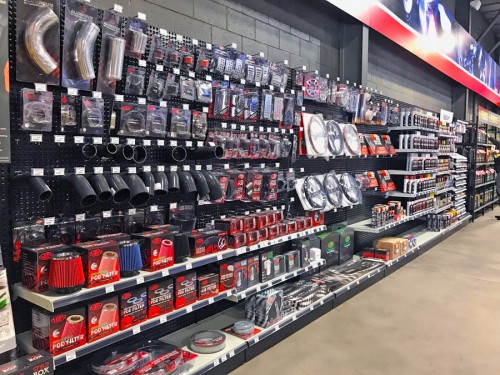 Deciding on a shelving system in a retail shop can be a tricky and burdensome affair but it is equally crucial. It subtly sets the tone of what customers can expect from the store as soon as they enter, so getting it wrong can be expensive. As a seller, you want to showcase your merchandise without cluttering the store and whilst making a statement on your product's quality.
However, the key to optimal shelving is choosing the right kind of system.

Which Shelving Type to Choose Based on Your Establishment or Type of Business
Depending on the kind of business you run and the type of merchandise you want to showcase, the best choice of shelving varies. The ideal shelving for a bookstore will differ from what customers expect from a clothing shop or a hardware store. Here are a few business niches and which shelving type to go for depending on the line of products you sell.
Convenience Stores - Versa Gondolas 

Convenience stores, petrol stations, newsagents, and supermarkets sell a wide range of products in various shapes, sizes, weights and functionality. From potato chip packets, cup noodles and medicine, to drinks, laundry products and vegetables, convenience stores sell almost all essential day-to-day products. Needless to say; these types of businesses would demand shelving that is roomy and versatile. For this, Versa Gondola shelving is ideal. This type of shelving is utilised in an array of establishments, including homewares, supermarkets, discount & variety stores, hardware, petrol stations, pharmacies and pet stores, to name a few.
Their sturdy build allows them to hold even the heaviest items with ease whilst displaying lighter products in a non-obtrusive way. Thanks to the durable construction, automotive stores also use this kind of shelving. Versa gondolas offer optional add on accessories to complement your store layout. These truly customisable displays can include end caps, hang rails, baskets, storage drawers, magazine racks/shelves, signage, lightboxes and much more to effectively showcase your products and maximise floor space.

SI Retail is one of the best shopfitting stores in Australia and sell top-of-the-line Versa Gondola Shelving for all types of businesses.

   

 


Fashion stores - Wall Strip Shelving 

Fashion stores are known to sell different lines of products. Not only can you expect clothes to be displayed, but some stores have also begun to showcase jewellery and shoes. Fashion retailers understand the importance of creating aesthetically pleasing displays to showcase their merchandise. Wall stripping is one of the best ways to display clothing, apparel, garments, and other fashion accessories. Wall strip shelving is a flexible, highly customisable display option that allows store workers to stack up the merchandise in an orderly manner. This type of shelving is suitable not only for fashion and clothing stores; but also for department stores, convenience stores, pharmacies and chemists. SI Retail offers wall stripping in a variety of sizes and styles to meet your needs, including single and double slot upright strips and accessories such as crossbars, bar arms, crank arms, hang rails and hang shelf kits.

SI Retail is a top tier shopfitting solutions store that hundreds of retail shops have trusted for high-quality shelving. We offer all notable types of shelving and promise quality like no other. SI Retail sells a wide range of dynamic and sturdy shelving. We also supply retail shops with other fittings and accessories to attract customers and simplify their shopping experience.


   




Hardware and Automotive - Versa Gondolas with Flat Metal Shelves

For stores or shops requiring heavy duty gondolas and shelving, SI Retail's Versa system is your answer. Versa metal shelving is manufactured using thicker, high-quality steel than their cheaper counterparts. Flat metal gondolas and shelves offer both quality and versatility. Industries like hardware, automotive, sport, camping and other retail outlets which sell heavier items rely on this added durability. Stronger steel components provide improved stability that won't bow or bend over time and supports larger loads. This makes the Versa gondola range of shelving an ideal choice for a more durable and affordable system. Heavy hardware items can be stored or displayed efficiently using the Versa gondola system thanks to their ability to withstand heavy items such as multiple paint drums/tins, timber planks, power tools, electrical supplies and other automotive or hardware utensils.

Our flat metal shelves are paired perfectly with Versa gondolas containing pegboard, flat metal or slatwall backing. Pegboard and slatwall options allow for further customisation such as special hardware hooks; wire fences and dividers or trays, boxes and baskets to organise the smaller bits and pieces. Paint brushes, screws, fasteners and other tools will be kept neat and tidy using these accessories. 

 

   
Contact SI Retail when designing your store shelving layout and we can plan and advise the best gondola shelving system to suit your needs.